New Solutions as an employer – We are different …
The highest office in Burghausen, Germany – on deck 8
Modern furnishings and air-conditioned rooms in the highest office in Burghausen. But mobile working is also possible with us. From the offices and meeting rooms on deck 8 we have an indescribable view – even the mountains can be seen.

Lounge with kitchen and terrace on deck 4
Our large lounge with a fully equipped kitchen and a large terrace is located on deck 4. Especially in the summer, it's a great place to enjoy a nice cold drink after work and end the workday with your colleagues.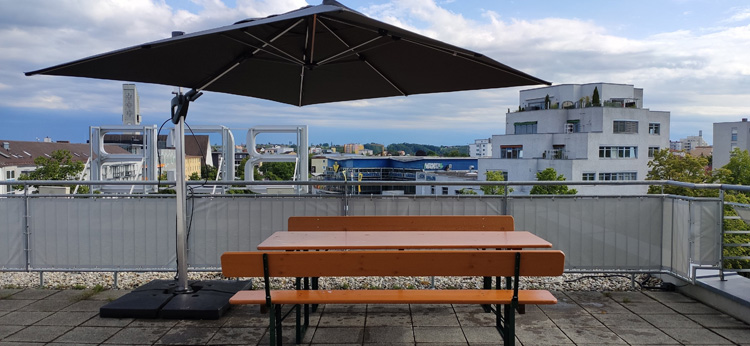 Meeting rooms on deck 4, 5 and 8
A total of four meeting rooms are available for small and large meetings – on decks 4, 5 and 8. These can be used for internal meetings, training courses and discussions with customers. The picture shows "Der Schlaue Raum" on deck 8, which invites you to brainstorm creatively alone or with colleagues.
Health and Sport – New Solutions is running …
Exercise is important – especially if you otherwise just sit all day. We therefore support the leasing of bicycles (job bike) with a monthly subsidy of 25 euros. In addition, there is a weekly running round to which everyone is cordially invited. Together it is much more fun. Since recently we also have showers in our offices. So you can also use your lunch break for a run and freshen up afterwards.
Those looking for competition can also use the table foodball on deck 4.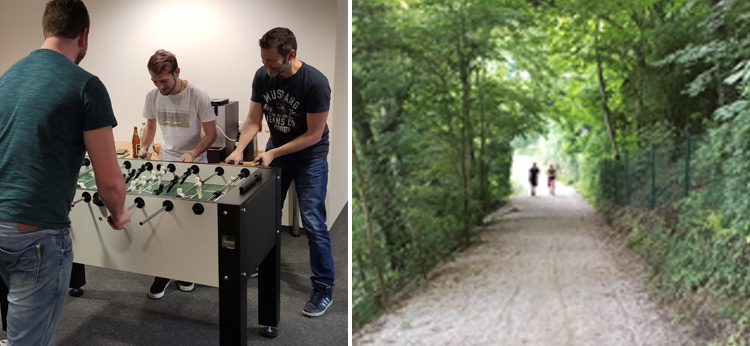 Evaluation of New Solutions GmbH as an employer and the corporate culture
The satisfaction of all employees is important to us. Regular employee appraisals and satisfaction surveys are the sources for improvements in working conditions, corporate culture and the working atmosphere.
Evaluation of the New Solutions at Kununu as an employer (4.7 stars, 100% recommendation):
https://www.kununu.com/de/new-solutions/kommentare
Evaluation of the corporate culture of New Solutions:
https://www.kununu.com/de/new-solutions/kultur